Your Story Contest
On A Klamath Vacation

Submit an entry in the Your Story Contest to win a 12-month pass to Crater Lake National Park and the Lava Beds National Monument.




You can write about any one of the following topics ~


Crater Lake Visit


Lava Beds Visit


Restaurant Review


Fishing Adventure


Water Crisis Opinion


Topic of Your Choice



Click here to share your story!
Contest Prize Example (below)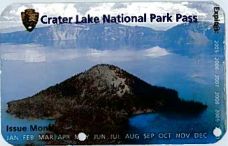 The contest runs from the present until midnight June 4th, 2010 PDT. The winner will be determined from all submitted entries and will be notified no later than June 12th, 2010.


If you have already submitted a story in one of these areas, then complete the entry form (below) and submit it and you will be entered into the contest.


If you haven't submitted a story, then click on one of the links and submit a story. Return to this page and submit your entry form. All information entered in the form below will only be used to notify the winner. Enter as many times as you like.


This contest is open to any person 18 years of age or older. Someone under 18 can write a story but the person entering the contest must be 18 or older.


If the winner of the contest lives outside of the Klamath Basin and won't be visiting either Crater Lake or the Lava Beds, they may opt to receive a gift card of equal value.


All submissions to this site must be original (not copied), in good taste, legal, accurate and true, non-defamatory, non-threatening, non-confidential, non-infringing of copyrights owned by others and relevant for this site. Posts should be non-commercial/non-promotional in nature and not contain commercial web addresses, e-mail addresses or phone numbers. We reserve the right to reject or edit or delete any parts that violate the above, including the right to ban offenders from submitting again.


A minimum of ten entries must be received before a prize will be awarded.





Return to Home Page from Your Story Contest Page.