Crater Lake Lodge and Dining
One of the Best Oregon Attractions
A stay at the Crater Lake Lodge was one of the top 5 things to do on my wife's bucket list. We spent three nights at the Lodge the last week it was open in October 2008 as we celebrated our wedding anniversary. Needless to say it was a great experience! The lodge was renovated in 1995. It features two large fireplaces in its spacious lobby, along with the dining room that faces the lake.

Have a great story about Crater Lake or your stay at the Lodge? Share your story by clicking here!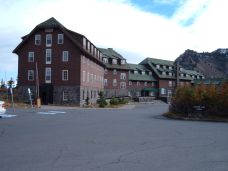 There is also a lakeside porch with rocking chairs and seating for enjoying the view. The lodge is open from mid May to mid October. You need to make your Crater Lake Lodge reservations well in advance of your trip because the lodge will be sold out. We didn't know this and tried to get reservations a month or two in advance and we had to wait until the following year.
Click this link for Lodge reservations.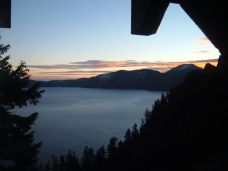 We enjoyed the wonderful views (especially from our bedroom window). Our room was on 3rd floor and we could lie in bed and see the sun rise on the lake. Our room included a queen size bed, a small desk, an easy chair, closet, and a private bath. The room was not as large as we expected but compared to the other rooms in the Lodge it was quite spacious.


We experienced just about every kind of weather during our weekend. We had sunshine, rain, fog, and it even snowed – which added to the ambiance of the weekend. Since the weather outside limited our sightseeing we spent a lot of the weekend in the spacious lounge reading a book, playing games, or making new friends. We even took time to take a nap or two.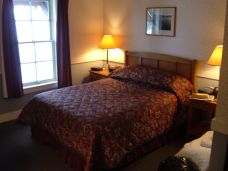 There is no TV or telephone in your room so you have to find other things to do for entertainment. One tip we found out from another couple was that you can bring your own wine and keep it chilled in a cooler in your room. Complimentary coffee is served in the lobby each morning for guests only from 6:30 to 9.


The front desk has a full compliment of games and puzzles for all ages. One of the desk clerks let us borrow his personal Scrabble game. Every morning one of the rangers gives a talk about the lake and its history.


After making your lodge reservations we recommend that you make your dining reservations. You can call the dining room at 541-564-2255 x3217. Breakfast and lunch is usually not a problem but the evening meal fills up pretty fast. On several evenings the dining room was completely full and no other reservations were being made. And even with reservations we had to wait about an hour to be seated.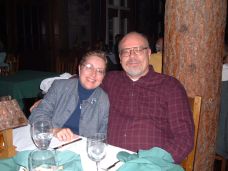 One thing that made our evening dining experience at the Lodge more enjoyable was getting to know our waiter or waitress. And because we stayed several days we had the same waitress for several meals. The food was excellent and we ate all our meals in the dining room.


Check out the following menus for –


Breakfast
Lunch
Dinner
The weekend lived up to being one of the
best Oregon vacations
we have ever experienced. We are planning another weekend getaway in the near future and we will update this page when we do. We plan to add your reviews of the Lodge in the near future so check back soon.
Return to Crater Lake Page from Crater Lake Lodge Page.
Return to Home Page from Crater Lake Lodge Page.