About Us And Klamath Vacations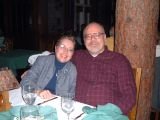 So, here's a little about us – my wife and I and grew up in Texas and we moved to Oregon in 1995 because of a job opportunity. We never dreamed we would ever live on the west coast. But, Oregon is now our home and we're glad it is! We are a short drive from Upper Klamath Lake with beautiful views of the Cascade Mountains.


We live in Klamath Falls, Oregon (the kids are grown and have moved away) but we still reflect on those early days here and remember the good times we had exploring and getting to know Southern Oregon and Northern California.


Just three weeks after coming to Oregon we visited Crater Lake National Park and have been back many times. (Crater Lake is one of our most favorite Oregon vacations!) We've explored the caves at Lava Beds National Monument several times and haven't lost one of our kids yet!


We bought a canoe to aid us in exploring the rivers and lakes and Josh (my oldest) and I went on an unforgettable 5 and 1/2 hour canoe trip from Klamath Falls, Oregon to Keno, Oregon (we thought we'd never get there!).


And talking about unforgettable – during our first winter we received over four feet of snow within a two-week time span! We sure had a lot of fun playing in the snow and a lot of work shoveling snow – most of it off our roof! So, that's a little bit about us.


What is my occupation?


I work at the corporate headquarters for JELD-WEN in their IT department. I am a Business Systems Manager in the area of software support. JELD-WEN is a manufacturer of windows and doors with offices in the US, Canada, UK, Europe, Australia, and several other locations around the world.


So...why am I building this website?


Because I love to write about this area known as the Klamath Basin and surrounding area. I think it is a hidden jewel waiting to be discovered.


So...why did I decide to go with SBI?


I found SBI (SiteBuildIt) in 2008 and it looked like it had everything I was looking for. So I purchased their course and quickly became overwhelmed with everything that I needed to do to create my own website. I forgot one of their basic teachings – take it slow and steady. In fact, SBI's mascot is a turtle. So, after a month I crashed and burned!


After about six months I couldn't get the idea out of my head that I had given up too soon. So I decided to try it again and this time I am putting into practice the idea of working slow and steady. And this is the result – Klamath Vacations!


Who knows – I might even add another web site or two in the future!


Even though I work in the computer field I know very little about writing HTML or creating a website. That's the beauty of Solo Build It and why Solo Build It is such a good fit for me. It's made for the average person with the desire and motivation to build a website. Solo Build It teaches you all you need to know to get results and be a success!


If you want to find out more information about having your own website or about Solo Build It, click on this link , or if you have questions about Solo Build It, click on this link.


So ... that's the story about us and Klamath Vacations. To learn more about how you can have a website of your own click on one of the links above.





Return to Home Page from About Us Page.