Klamath Falls Weather
On A Klamath Vacation




Klamath Falls Weather Forecast, OR (97601)


Klamath Falls weather on a Klamath Vacation is unpredictable. When we watch a forecast the announcer gives temperatures for 5 distinct areas – the Coast, the Mountains, Northern California, East of the Cascades, and for the Medford area.





There are 4 seasons in this area of the country. The problem is that it is hard to distinguish when one season starts and one season ends. Since we moved here in 1995 we have seen it snow as late as Mother's Day and we've seen it get down to freezing in the middle of August.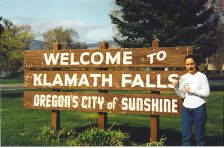 Klamath Falls, Oregon, is known as the City of Sunshine and we receive over 300 days of sunshine per year. Most people think of Southern Oregon as very rainy, but we are east of the Cascades and a high desert region. The average summertime high for Klamath Falls weather is a very comfortable 85 degrees. The lowest low we've experienced is around 10 below zero.


We can usually expect the first snow fall around the end of October. But the significant snow doesn't start until Thanksgiving weekend. The snow continues steady off and on until the beginning of March when we start to see a mix of rain and snow. The average rainfall/snowfall for this region is about 14 inches per year.


During our first winter it rarely precipitated at all in November and December. Then in the last week of January it started snowing and in a two-week period it snowed four feet. It was great fun to see that much snow and to experience shoveling off our roof.


On Memorial Day weekend we get our annual thunderstorms. Whenever it rains here it's not like a rain in Texas. It's more of a gentle rain and doesn't last very long. And quite often it can be raining and sunny at the same time.


On one outing to Crater Lake National Park we took some friends from Florida and we were all amazed to see it start snowing on the first day of summer. It was definitely the highlight of our trip!


The best time for going on a Klamath Vacation is in June, July, August, and September. The days are warm and the nights are cool. It rains on average about one-half an inch per month for those months. And the sun shines bright from early morning to late in the evening.


On more than one July 4th, after watching the fireworks, we've made hot chocolate or started a fire to get warm. Some years we can wear short-sleeve shirts and shorts. The old-timers say that they have seen it snow in every month of the year, but we new-comers have seen snow in only nine of the twelve months.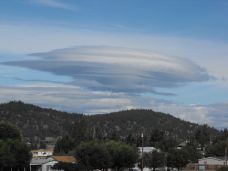 Each Labor Day weekend we like to go camping at a favorite location on Hwy 66 near Keno about 20 minutes from town. We always take firewood with us and enjoy a fire in both the mornings and evenings. That weekend the weather is notorious for seeing the first cold front hit the area and temperatures get down close to freezing at night.


The temperature range between the Klamath Basin and the mountain areas is from 8 to 10 degrees depending on the season. With summertime nightly lows averaging close to 50 degrees we know that we'd better take our jacket if we will be camping in the mountains. The humidity level is low most of the year since this area is high desert.


As you plan your trip, be sure you pack efficiently with these tips geared especially for women at Fashion After 50. Don't forget to pack a light sweater or jacket as most evenings can be cool, especially in this high desert region.




Return to Home Page from Klamath Falls Weather Page.