Captain Jack's Stronghold
at Lava Beds National Monument

At Captain Jack's Stronghold, Captain Jack and his band of Modoc Indians held off the US Army for nearly five months in 1873. Captain Jack and 50 men (also wives and children) defended themselves against an army 20 times their strength.



The first battle occurred on January 17, 1873, when the Army attacked Captain Jack from the east and the west. Because of the dense fog and the rough terrain the Army had 37 casualties and the Modocs didn't lose anyone. As a result of this battle reinforcements were requested.


Over the next few months more and more troops arrived to support the Army. Captain Jack and General Canby participated in peace talks. After several months of unsuccessful negotiations to get the Modocs to go back to their reservation, Captain Jack killed General Canby. Three days later on April 15, 1873 the Army attacked again with mortars and howitzer cannons. The Army was able to cut the Modocs from their source of water.


As a result of the unceasing mortar shells exploding every 15 minutes, the Modocs retreated to the South. Shortly thereafter, the Modoc Indians were captured and returned to the Klamath Indian reservation.


---
As you enter Captain Jack's Stronghold, stop and pick up a copy of the brochure that explains the different points of interest. You can purchase one for 25 cents, or you can borrow it while you take the walk and return it when you're finished. As always, observe the signs throughout your walk to stay on the path. You can choose either the .5 mile loop trail or the 1.5 mile loop trail.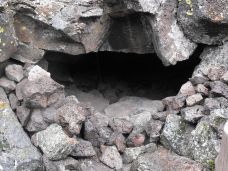 The booklet explains about the Modoc Outpost and the kind of defense the Modocs had. It also points out the different kinds of shelters the Modocs used and several significant landmarks. It details where Captain Jack's Command Post was and the cave where Captain Jack and his two wives stayed.






As you walk through the Stronghold you can imagine what it was like to be one of the Modoc Indians and how easy it would have been to defend an attacking from the Army. And you can see how difficult it would have been to live there for five months with little food and warmth – especially during the harsh winter months.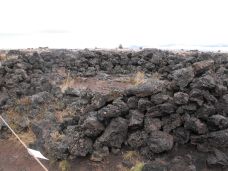 As a precaution all visitors are encourage to wear sturdy shoes. Always know where your children are and protect them. Remember to stay on the trail at all times. Watch out for loose rocks. Snakes are known to be in the area. And because of the lack of shade, be aware of the intense sun and wear a head covering.




Return to Lava Beds Page from Stronghold Page.


Return to Home Page from Stronghold Page.