Best Places to Stay
For Highway 97 Camping
Collier Memorial State Park – Chiloquin
The Collier Memorial State Park is a favorite Highway 97 camping site for those who like to relax and get away from the big city (Klamath Falls). The fishing is not too bad either since the Williamson River is famous for its trout. If you like canoeing or kayaking, a trip to the source of Spring Creek only takes about an hour each way.
The historical buff will enjoy the self-guided tour through the Logging Museum and Pioneer Village. After touring the site you'll come away with a better appreciation of what it took for our forefathers to live and to harvest the timber.
This state park also features a day-use area across the highway from the Logging Museum and another area on another road past the museum. In the summer months movies are shown at 9 p.m. and a naturalist leads short hikes along the Williamson River.
The camping area is open from April through October and reduced rates are available for April and October. The Logging Museum and day-use areas are open all year.



View Klamath Falls Region in a larger map


Tent/RV sites: 18 tent sites/ 50 full hookups
Open: Seasonal (April to October 31)
Rates: May 1 – Sept 30 Tent sites - $18 and Full Hookups - $21
Directions: From Klamath Falls take Hwy 97 N past Chiloquin. The entrance to the campground is on the right just past the day-use area.
Other info: Showers, Restrooms, Hiking, Fishing, The Logging Museum, 10 miles from Crater Lake National Park
Contact: (541) 783-2471 (800) 452-5687

Click here for a layout of the campground of Collier State Park.


Juanita Lake Campground – Northern California
If you own a canoe or kayak and you enjoy fishing then this Highway 97 camping spot is for you!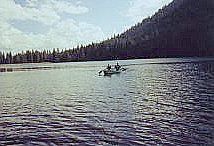 The lake is regularly stocked with Rainbow and Brown trout as well as other kinds of fish. The 55-acre lake is a no-motor lake and has a paved 1.5 mile pathway around it.
Seasonal activities include swimming and hiking while in the winter ice-fishing is allowed on the lake after the ice freezes to a depth of 4 inches. Snowmobiling, cross-country skiing, and snowshoeing are also available in the winter.

Tent/RV sites: 26 campsites with 23 family sites, 1 large group site, and 3 sites accessible by persons with disabilities.
Open: Year round
Rates: $15/night for single site and $20/night for double site
Directions: From Klamath Falls take Hwy 97 South past Macdoel. Take Ball Mtn. Road to Forest Service Road 46N04.
Other info: Fishing, hiking, winter use, swimming, no motorized boats, 1.5 paved trail circles the lake, day use area.
Contact: (530) 398-4391



View Klamath Falls Region in a larger map




Return to Camping Page From Highway 97 Camping Page

Return to Home Page From Highway 97 Camping Page