Win an Annual Pass to Crater Lake and the Lava Beds
The Klamath Vacationer brings you the latest additions to our family's experiences as we discover new Klamath Vacations.

If you like this e-zine, please do a friend and us a big favor and "pay it forward". If a friend did forward this to you and if you like what you read, please visit our home page and subscribe.

Klamath Vacations Home Page

In this issue ...

1) 2010 Writing Contest

The writing contest has begun and will last for the next two months ending on June 4, 2010.

2) Recent additions

You can always read about what's new by checking out The Klamath Blog page. We have added an Advertise With Us page, an Ella Redkey Pool page that has the latest pool schedule and prices, and a Klamath Photos page where you can publish your favorite photos of the Klamath Basin and the surrounding area.

2) Upcoming additions

The next two pages we will be adding are the Birdwatching page and the Hotels and Lodging page.

3) Did you know that ...

This section asks you to find a particular person, object, or phrase located somewhere on our site.


2010 Writing Contest

This contest is to help introduce our website as well as provide an opportunity for you to add your own "flavor" of what a Klamath Vacation is all about. Your unique story will give a different perspective of what this area is like. And best of all - you have the opportunity to win a prize for your contribution.

Two stories about Crater Lake have been submitted prior to the contest. They are excellent examples of what we are looking for. Their titles are "Lost Keys at Crater Lake" and "A Young Bride Comes to Oregon". You can read them at the Your Stories page.

We will be distributing the brochure (below) to local stores, churches, and businesses. It's an invitation for anyone who wants to write a story about a favorite activity, a restaurant review, or an opinion about an issue in the Klamath Basin. This is your invitation to write your story.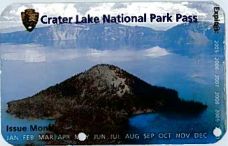 The Grand Prize will be a 12-month pass to Crater Lake National Park and the Lava Beds National Monument. Crater Lake and the Lava Beds have a reciprocal agreement and this pass can be used at either park. Click on the link below to submit your story or review.
Your Stories page



Recent Additions

The Klamath Blog page is updated every time a page is changed or a new story or review is added. The Advertise With Us page details 3 ways a person or business can advertise with us -

A picture and paragraph about their business
A picture and paragraph PLUS a web page about their business. This a very economical way for local businesses to get a web presence.
Display a product or service with a contact form and we receive a finder's fee when a sale is made.

The Ella Redkey Pool page is a link from the Klamath Attractions page. Dan swims there 3 times a week. It's great fun and exercise! And, it's always the right temperature (as long as he stays in the water!).

The Klamath Photos page has some of the photos we have used on this site plus another photo from a friend. If you would like to add your photos to this page send me an email with the photos attached (higher resolution is better!). I will re-size the picture(s) and add your name and your photo name. Please use the email link on the Klamath Photos page to submit your photos. As more and more pictures are added we will expand this section into multiple pages.



Upcoming Additions

Two new pages are in the planning stage - the Hotels and Lodging page and the Birdwatching page.

We missed the Wing Watchers festival held at OIT in February, but we plan to visit the Lower Klamath and Tulelake Wildlife Reserves in April to see all the nesting birds. We will also write about some of the best places to go birdwatching.

The Hotels and Lodging page will include local hotels, RV Parks, Lodges and Resorts, and several Bed and Breakfasts. Of course, we'll feature the following Resorts and Lodges - Running Y, Diamond Lake, Rocky Point, Lake of the Woods, Aspen Ridge, Crystalwood, Crater Lake, and Winema. If you know of an additional Lodge, Resort, or Bed and Breakfast that should be included, let us know and we will be sure to include it.


Did You Know That ...

In this section we will ask you to find a particular person, object, or phrase. In this e-zine the question is - Did you know that there is a picture of "Flat Stanley" somewhere on our web site? Hint - this will be a sign unto you. See if you can be the first person to find "him". You can email me at ...

I found Flat Stanley here!

Or you can just reply to this email.


Comments? Ideas? Feedback? We'd love to hear from you. Just reply to the e-zine and tell us what you think!

See you next time!

Dan & Judy